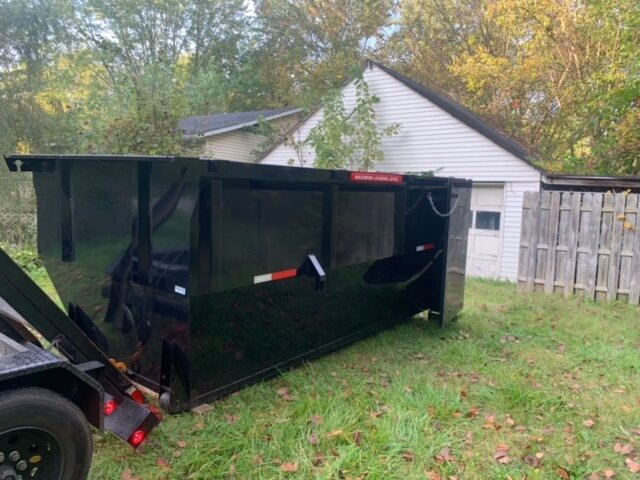 Size: 14' L, x 83" W, x 6' H
Days: Up to 7 Days
Rent Time Extension: $20.00/day
Ton(s): 3 Included
Extra Weight: $75/ton
Description
20 Yard Dumpster Rental | Instant Quotes & Online Ordering
How do you dispose of waste from your home or business? Rubbish Outlaw is one of the best rental solutions available. The 20 yard roll off dumpster is 14-foot in length length and is 6 ft tall. Our 20 Yard Dumpster Rental option is an easy way to clean up a large house. Its ideal size also suits remodeling projects such as the removal of flooring or renovating big rooms.
What is a 20 Yard Dumpster?
A 20 yard dumpster is a large dumpster that can hold 20 cubic yards of waste. That is the equivalent to approximately 6 full-size pickup trucks of waste. This size dumpster is perfect for large home renovation projects, commercial construction projects, and other types of major cleanup projects.
Price of a 20 Yard Dumpster
A 20-yard dumpster costs $399.00 for a 7 day rental. Included in our prices are delivery, collection, and disposal up to 3 tons.
Weight limit included in our rates
Our 20 yard dumpster rentals include up to 3 tons (6,000 pounds). We charge an additional $75.00 per ton once you exceed 3 tons.
Tell me the capacity of a 20 yard dumpster?
The containers typically contain 2-4 tons of waste. We limit our 20 yard dumpsters to 5 tons (10,000) pounds.
How long is a 20 yard dumpster?
Typically our 20 yard boxes measure 8 feet wide, 6 feet tall and 14 feet long.
How many tons can a 20 yard dumpster hold?
We limit our 20 yard dumpsters to 5 tons (10,000) lbs. With a huge capacity these dumpsters are capable of carrying out many waste removal activities.
20 Yard Dumpster Dimensions
Our 20 yards generally are 6 foot in height x 14' in length. A 20 cubic foot container can store the same amount in a trash can or six pickup loads.
How much does a 20 yard dumpster cost?
The cost of the dumpster depends on where you live. We charge $399.00 for a 7 day rental. The cost averages around $400-700 in other areas. The cost of the 20 yarder can vary significantly by place. Our fees include the delivery, pickup and disposal cost of up to 3 tons.
Why It's Great For Nearly Every Home Project
20 yard dumpsters represent more than 60% of rentals across the USA! We have some of the best bins. Great for Large Basement, yard waste, junk removal, Home, Garage Cleanouts and a variety of projects.
Delivery and Pickup Tips
When ordering your dumpster leave instructions on where to place the Roll Off Dumpster. Choose a location that is easy to access, does not have low hanging wire or branches. Check with city and see if you need to obtain a permit. Normally no permit is required unless placing the dumpster on the public street. Remove any obstructions, the truck needs about 60 feet of clearance and a height clearance of about 20 feet. Make sure not to overload the box. We do not accept any dirt, concrete or brick in our dumpsters.
After Dumpster delivery and On pickup day make sure dumpster doors are closed and latched. Make sure there are no cars parked in front of the dumpster. Clear a path for the driver to get to the dumpster, remove any clutter.
20 Yard Dumpster Rental
Looking for a clean and spacious 20 cubic yard dumpster rental in Akron, OH? Look no further than Rubbish Outlaw! Our sturdy clean containers are perfect for any waste disposal project, big or small. With double walk-in doors, it's easy to load up your rubbish and take it away. So why wait? Call us today to get started! Were your affordable dumpster rental.Our 20 Yard dumpster is equal to approximately 6 pickup truck loads. Need a longer/shorter Roll off dumpster rental just let us know. Our dumpster rental cost $399.00 for 7 day rental. Decluttering your home can be a daunting task. When you're looking for the best way to get started, we recommend renting either our 15 or 20 yard residential dumpsters which will make it much easier on yourself and perfect timing too - during those weekends when there are other things taking up all of that free time! Our delivery service offers hassle-free drop off and pickups, And lastly--don't forget about convenience: having one less item needing attention makes life just a little bit betterMoving
When you find yourself in the process of moving, it can be a huge ordeal. You want everything to go smoothly and without any hiccups or headaches along the way- but sometimes this is easier said than done! Cleaning out homes ahead of moves saves people from these types disaster by making sure items get thrown away right after being sorted through.
Storm And Disaster Cleanup
We've got you covered when disaster strikes! We have streamlined residential dumpster services that make the process simple. Book Online or give us a call and we will take care of everything for you - from delivery to removal. If 20 yard size is too small or if additional materials are needed after an especially messy storm event then consider our swap out service or dump and return service.
Complete Kitchen/Bathroom Renovation
We'll be your cleanup crew for all things renovation! From flooring and tiles to fixtures, we can handle it. Our 20 yard Dumpsters can handle a number of items and debris from your kitchen remodeling project, including flooring or tile; structural debris (drywall, lumber) - all without worrying about the hassle!
Whole Home Decluttering Project
When our houses become too cluttered, it can be a very stressful situation for homeowners. They might consider using the basement or garage as storage space but in no time these spots will start to fill up with all of life's accumulating items that we will never use--and then finally we have to make some decisions about what stays and goes! Our 20 yard dumpster is an ideal way to get that messy basement and 2-car garage clean in one fell swoop.
To be honest there are so many uses for our 20 yard dumpsters, from the above list to flooring or carpet removal and Deck and Shed Demo, Rubbish Outlaw has got you covered.
Dealing with all the waste and junk left over from a renovation is hard.
This can be avoided by using 20 Yard Dumpster Rental. Our dumpster rental service will ensure that you get rid of your trash in an efficient manner, saving time and money on hauling fees. We are experts at what we do – so let us take care of the dirty work for you!
Renting a 20 yard roll off container from us is super easy, hassle-free and affordable way to clean up after any large scale home improvement projects such as basement remodeling, garage cleaning, kitchen renovations and more! Whether it's just one room or an entire house remodel, we have the right sized dumpsters for every job! And if needed we also provide same day delivery
How much does it cost to rent a 20 yard dumpster near me?
The cost per week for renting a 20-yard dumpster is $399.00.
How Long Can I Rent a 20 Yard Dumpster?
We offer 7 day rentals on our 20 yard dumpsters, if you would like more time you can add additional days for $20.00 per day. We also include up to 3 tons on our 20 yard Roll Off Dumpsters.
Junk Removal
Filling up a 20 yard dumpster by yourself can be a daunting task. If your not up to the challenge or just need more time to do other things. Inquire about our junk removal service. Rubbish Outlaw offers full service junk removal.10