We Serve Akron Area And Beyond!
Cigarette smoke residue is a yellowish-brown, gluey substance that sticks to every surface in a home, making it difficult and time-consuming to remove.

Cigarette smoke is a mixture of chemicals that come from the burning of tobacco in cigarettes. Cigarette smoke contains more than 7,000 chemicals, including hundreds that are toxic and about 70 that can cause cancer.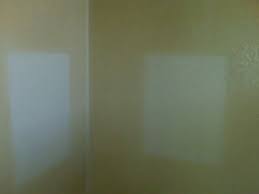 How does cigarette smoke affect your home?
Cigarette smoke can seep into your home through open windows or doors, burned out light bulbs, gaps around window and door frames, even the tiniest of cracks in walls and floors. That's right! If you're a smoker, no matter how diligent you are about placing an ashtray near these potential entry points for cigarette smoke, at some point during the day there will be some unseen evaporation of the toxic residue from the cigarette filter.

For those of you who have quit smoking cigarettes but still have odor issues with your home/business...we'll address that later.

The first step is to determine whether or not the smell is mostly coming from inside or outside your living space If it's coming from INSIDE your living space, the next step is to "de-gunk" as much as you can. Scrub with a mixture of hot water and vinegar , which will help eliminate some of the smoke particles from carpets, drapes, furniture upholstery, etc. If this process doesn't get rid of the stale cigarette smell, try sprinkling baking soda on surfaces, allowing it to sit overnight before vacuuming in the morning. Keep in mind that this method may need to be repeated several times until all odors are eliminated!

If you've successfully removed all visible residue but still have an odor problem...

Use an air purifier . This type of equipment uses HEPA technology combined with activated charcoal or baking soda cartridges to remove smoke particles from the air. Some units also have UV lights to neutralize odors caused by cigarette residue settling on surfaces in your home.

If you moved into a house or apartment that smells of stale cigarette smoke, your best option is to seal off the source of the smell. If it's coming from INSIDE your living space, block all entry points for cigarette smoke by placing towels along all door/window cracks and spraying copious amounts of an aerosol "air freshener." Some people swear by Glade Plug-Ins , but personally I'm not crazy about plugging in non-battery operated devices...if they do go bad none are easily replaced. So if you're going plug something in, make sure it's a simple plug-in and not one with all kinds of bells and whistles.

If you're renting, whether it be a house or apartment...you may have to make some tough decisions, such as asking the landlord to remove the smoke odor from their property by replacing carpets, repainting walls or whatever else they can do to sufficiently eliminate the smell. If this is your only option, you may want to consider moving! However most landlords will NOT go out of their way to address a tenant's tobacco odor problem in their properties because these types of disputes could turn into contentious court battles that most landlords would rather avoid.
Contact Us
We are experts in Cigarette Smoke Remediation and all types of junk removal, including: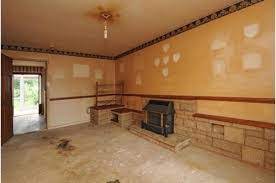 Refrigerator Disposal & Recycling
Construction Waste Removal
E-Waste Disposal
Garbage Removal
Dumpster Rental
And just about anything else you don't want!
DIY Cigarette Smoke Odor Removal from Homes and Offices
In the past, cigarette smoke has been judged as the #1 biggest indoor air pollutant. No matter how you slice it, cigarette smoke is simply NOT healthy to breath in. Public places are required by law to ban smoking (at least they should be), however many smokers still light up at home or in their cars with the windows rolled up tight. For some reason most non-smokers would rather live with a little bit of second hand smoke than make their smoker friends suffer for an hour by asking them not to light up around them (don't ask me why because I can't think of one good reason). The problem with open windows is that cigarette smoke will creep into your car and your home, even if you're just sitting there watching TV. The only way to really get rid of that odor is to remove the smoke and clean your home or car.

Removing the Smoke:

- Remove all porous materials such as carpet, clothes, and even "non-smoking" rooms. If it can absorb moisture then it has the potential to absorb smoke smell in a bad way.

- Wash all windows inside/out - Wash all doors (inside/outside) with warm water and dish soap (smoke sticks like crazy to painted surfaces)

- Wash walls (interior and exterior), ceilings, door frames, base boards with warm water and dish soap *TIP* Try using dryer sheets on interior walls directly after cleaning them. Dryer sheets suck up some of the moisture and will help keep your walls safe from re-odor after they're dry.

- Wash all floors (interior and exterior) with warm water and dish soap *TIP* You'll want to rinse each room several times with hot water to be sure that every trace of odor is removed.

Removing Odor:

Remove air conditioner filters, furnace filters, ceiling fan/light covers and wipe them down with vinegar and let air out

If you have a large fan in your home or car then turn it on high for at least 15 minutes.

Clean everything in the home: floors, windows, carpets, furniture, upholstery, draperies, blinds, and other household surfaces, fixtures, and items. Hire a professional cleaning company if the tobacco smoke is too difficult to remove.

If you can still smell cigarette odor after cleaning, repaint the walls and ceilings with latex paint. Use a sealant designed to lock in odors before painting.

Short-term cigarette odor removal solutions
These solutions are both effective and inexpensive:

Use an air purifier in your home.

Sprinkle baking soda on the carpets and allow it to sit overnight to absorb unpleasant smells before vacuuming the next day.

Place saucers of vinegar throughout the home and leave them overnight to remove the odor.

Get indoor plants which can absorb up to 87% of indoor pollutants.

Place small bowls of coffee throughout the home.
Use scented or non-scented candles.

Leave orange peels around the home.

Place pineapple slices around the room with all doors and windows closed for 24 hours.

Place bowls of activated charcoal around the home.

Deodorizing a home after smoking a lot of cigarettes is a time-consuming and complicated process.

If the problem is bad, contact Rubbish Outlaw, a specialist smoke cleanup business, to get rid of the stench.
Contact Us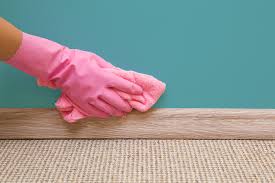 How professionals remove smoke odor from a property
Smoke odors are difficult to remove. They are always penetrating and searching for a way back into the property that is most desired by smoke odor molecules.

Smoke particles are tiny, they float freely in the air, attach themselves to furniture, rugs, drapes and give off an extremely offensive smell. The concentration of these particles will be higher along surfaces where smokers congregate most often.

Cigarette smoke also settles onto walls, ceiling tiles, window sills etc., giving it time to accumulate throughout the room or home with even more intensity. If you have ever lived with someone who smokes indoors then you know how hard it is to get rid of that cigarette smell!

You may find some success using fresheners but you will probably never achieve the satisfaction of having your entire home or property free of smoke.

The only method to effectively remove tobacco residue and smell is to clean and seal all structural surfaces. Cleaning all surfaces is the first stage in removing tobacco smoke. Deodorization chemicals are used at every cleanup since they assist to eliminate the tiny particles of tobacco smoke that may be hard to detect.

When the technicians are done cleaning the visible surfaces, they will usually need to use specialized equipment to get rid of any odors that are not accessible (such as within walls or joints). This will most likely be accomplished with hydroxyl or ozone generators - specialist equipment that destroys the noxious particles that have gotten past the difficult-to-reach locations.

The next phase is to apply a sealant to the surfaces. A product is required that can seal smoke residues. They may trap the final traces of stains and odors. Finally, the surfaces will be ready to paint, refinish, or replace existing coverings.

What about the softer objects, like clothing and upholstery? Soft things in a house, such as furniture, bedding, drapes, and clothes, absorb odors effectively and are frequently easily ruined. As a result of this, they are difficult to repair and may necessitate the services of specialists in several instances. However, in many situations it is decided to replace these materials and items.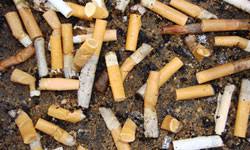 For cigarette smoke odor removal, call us!
Hire a professional restoration firm like Rubbish Outlaw to effectively and rapidly eliminate tobacco smoke scents from your property. We provide comprehensive smoke cleaning and sanitization, as well as expert deodorization.


Contact Us
We Take Just About Everything
Some examples of the junk we haul away include
Refrigerator Disposal

Garbage Removal

Mattress Disposal

Foreclosure Clean Outs
Construction Waste Removal

Yard Waste Removal

Trash Removal

Appliance Removal
Television Disposal & Recycling

Furniture Removal

E-Waste Disposal

Hot Tub Disposal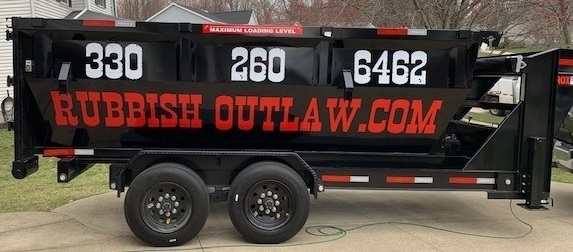 You Call We Haul Service
Rubbish Outlaw Dumpster Rental and Junk Removal provides many popular services and offers an easy to use solution to get rid of your unwanted junk and yes that includes TV's and other Electronic equipment. Those old TV's can be heavy and hard to dispose of for the average household. For a free junk removal quote give us a call.
Contact Us
We believe we are the most efficient waste management company in Akron OH. We offer junk removal and
dumpster rentals in Akron OH
, but also to the surrounding area including North Canton, Greater Cleveland, Summit County, North Ridgeville. For a free quote send us an email or give us a call 330-260-6462.
Whether you're looking for a local dumpster rental company for cleaning up your house or construction debris, we provide you with the perfect roll-off dumpster rental in
Akron
,
Alliance
,
Barberton
,
Canton
,
Cuyahoga Falls
,
Fairlawn
,
Hartville
,
Hudson
,
Kent
,
Norton
,
Portage Lakes
,
Stow
,
Streetsboro
,
Tallmadge
,
Uniontown
and all surrounding areas. Click to see our entire
Service Area
Rubbish Outlaw
163 Annadale Ave
Akron, OH 44304
330-260-6462