Professional Akron Junk Removal Services
We Serve Akron Area And Beyond!
We do more than just Dumpster Rentals, Rubbish Outlaw is also a Akron junk removal company we offer trash removal, commercial junk removal, junk hauling service, yard debris pickup, furniture removal, estate clean outs and garage clean-outs. With the EPA's strict regulations on recycling and waste disposal, households are finding it more difficult than ever to manage their waste. Rubbish Outlaw Junk Removal offers affordable rates for all of your junk removal and hauling services that include all labor and dump fees. Rubbish Outlaw Junk Removal is a family owned and operated business that has been providing quality services to the Northeast Ohio community.

We offer a wide range of services, including Akron junk removal, estate cleanouts, donation pickups, trash pickups, debris removal, furniture removal and more. We're proud to offer our services in Akron, OH and the surrounding areas. Same day service to most locations.

We understand that not everyone needs the same level of service, so we offer a variety of options to meet your needs. We're always happy to answer any questions you may have about our services or pricing. We want to make sure that you're getting the junk removal hauling or other hauling services you are seeking.

We strive to provide our customers with easy on time junk removal service and affordable pricing. Our affordable pricing is all inclusive never any additional fees. And we make it super easy and convenient to book your Junk Removal or Light demolition jobs. Call, Text or Book online to schedule an on-site free junk removal estimate or on-line estimate with No Obligation to hire us. Our crew will clear junk from any place on your property and do a sweep up to ensure your satisfaction. We donate and recycle many of the items we haul. We will take all types of non-hazardous junk and bulk waste. We charge by the amount of junk and the type of junk being removed. We use upfront pricing, and all labor and disposal fees are included. We offer competitive pricing that is fair and reasonable. We are a Veteran owned company that is local and not a franchise. We want to be your first choice for local Junk Removal. We provide service to both residential and commercial properties. Some of the services we provide are Appliance Removal, Construction Debris Removal, Foreclosure Cleanups, Hot Tub Removal, Bulk Trash Removal, Property Management Junk Removal, Estate Cleanouts, Furniture removal, Office Furniture, Mattress Removal, TV and Computer Recycling and Disposal.
We Take Just About Everything
Some examples of the junk we haul away include
Refrigerator Disposal

Garbage Removal

Mattress Disposal

Foreclosure Clean Outs
Construction Waste Removal

Yard Waste Removal

Trash Removal

Appliance Removal
Television Disposal & Recycling

Furniture Removal

E-Waste Disposal

Hot Tub Disposal
Hot Tub Removal Service
Jacuzzi Disposal, Removal & Recycling
We remove Hot Tubs of all shapes and sizes. We are always on time, professional, and provide affordable prices. Rubbish Outlaw Junk Removal is a family owned and operated business that specializes in commercial junk removal let us do all the heavy lifting. Our team is made up of experience, professional junk haulers that are timely, dependable, and work quickly to get the job completed.

Our service is a great way to get rid of your old hot tub. We'll take it away and dispose of it properly, so you don't have to worry about it. We understand that not everyone needs the same level of service, so we offer a variety of options to meet your needs. We're always happy to answer any questions you may have about our services or pricing for the Akron area and beyond.
Give Us A Call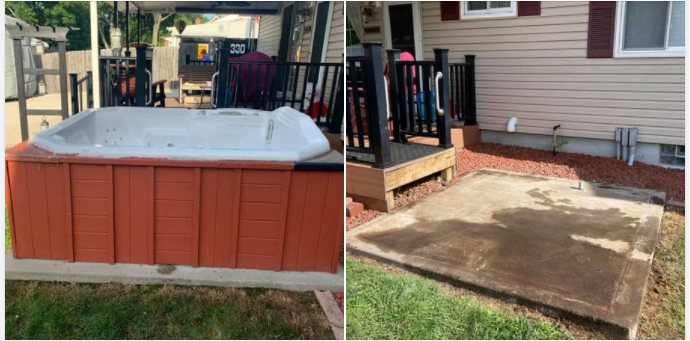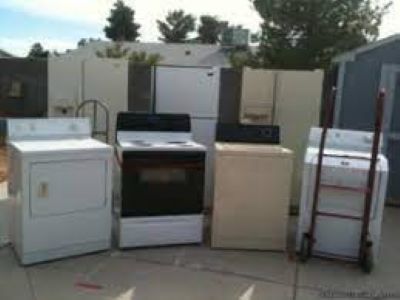 Akron OH Appliance Removal
Appliance Removal can be a tedious and daunting task you can not just throw it in the trash. First off it's heavy and bulky making removal difficult. Most waste companies will not pick it up with your normal trash. Which leaves you with the responsibility to comply with E.P.A guidelines set forth for the safe removal and disposal. Many of these appliances, such as window air conditioners, motor vehicle air conditioners, and refrigerators, rely on ozone-depleting refrigerants and their substitutes. You need to comply with the U.S. Environmental Protection Agency's (EPA's) regulations for the removal of refrigerants before you dispose of any appliances. We have the knowledge and process to safely dispose of your old or unwanted appliances in a safe and eco-friendly manner. Rubbish Outlaw Junk Removal can safely remove, haul away, and recycle all major appliances including:


Air Conditioners

Dishwashers

Washing Machines

Dryers

Kitchen Appliances such as Ranges, Stoves, Ovens, and Microwave Ovens

Freezers & Refrigerators

Water Heaters

Televisions

Computers

Monitors

Printers/Copiers

Other Large and Small Appliances
Give Us A Call
Office Clean Out Service
When it comes to office clean outs, the professionals at Rubbish Outlaw Junk Removal are the team to trust. We understand the importance of getting the job done quickly and efficiently, and we work diligently to ensure that your property is clean and clutter-free.

We can help you with everything from furniture removal to document destruction. We'll work with you to create a custom plan that meets your specific needs, and we always place a premium on safety and environmental responsibility. We want to make sure that your office clean out is as easy and stress-free as possible, so let us take care of your office clean outs.

Rubbish Outlaw Junk Removal will do the work when it comes to your estate cleanout needs. We provide services for commercial accounts such as offices, warehouses, restaurants and apartment buildings.
Give Us A Call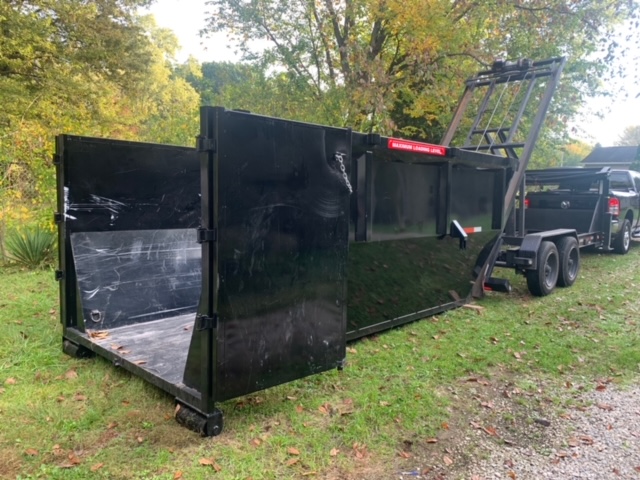 Foreclosure And Distressed Property Cleanout Service
Realtors have you listed a foreclosure, distressed property, bank owned property or short sale property that was left in disarray? Then Call the pros, Rubbish Outlaw Junk Removal will get that junk removed with no heavy lifting on your part.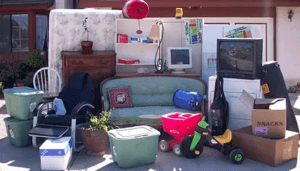 Akron OH Residential Junk Removal
There are a lot of benefits to residential junk removal. First, it can help you declutter your home. When you have less stuff, it's easier to keep your home clean and organized. Second, it can help you get rid of things you don't need. This can free up space in your home and also help you save money because you won't have to buy new things. Finally, it can be a great way to get rid of unwanted items maybe an old couch from the basement.
Give Us A Call
Akron Junk Removal Experts
Akron Junk Removal offers professional and reliable junk removal services to homes and businesses in the Akron area. We haul away any type of unwanted debris, from old furniture and appliances to construction materials and yard waste. We're here to help you get rid of your junk, so you can focus on more important things.

Our team is experienced and equipped to handle any size job, and we always work quickly and efficiently to get the job done right. We understand that not everyone needs or wants the same level of service, so we offer a variety of options to choose from. Whether you need a full-service junk removal or just need someone to haul away a few pieces of furniture, we have you covered.
Give Us A Call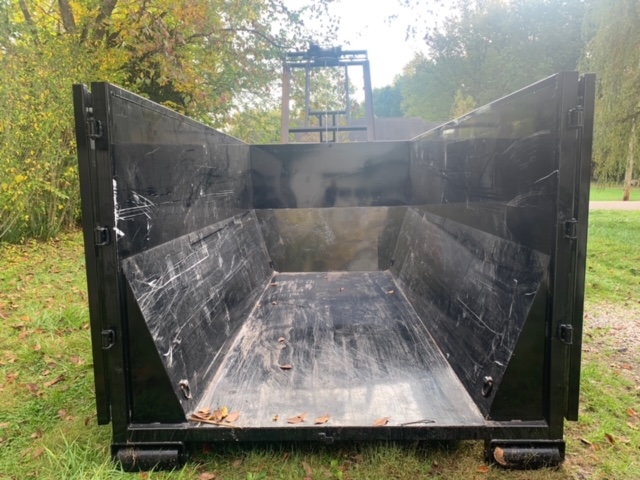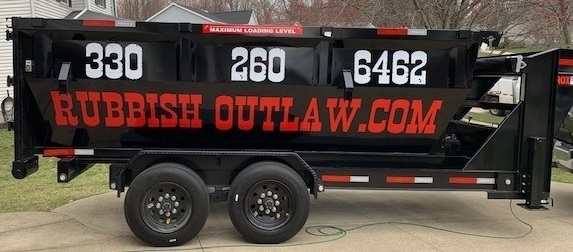 You Call We Haul Service
Rubbish Outlaw Dumpster Rental and Junk Removal provides many popular services and offers an easy to use solution to get rid of your unwanted junk and yes that includes TV's and other Electronic equipment. Those old TV's can be heavy and hard to dispose of for the average household. For a free junk removal quote give us a call.
Give Us A Call
An Affordable, Local And Full-Service Junk Removal And Hauling Service In Akron OH
Our junk disposal services company is equipped with the manpower and resources needed for dismantling construction projects and light demolition throughout Northeast Ohio.
We believe we are the most efficient waste management company in Akron OH. We offer junk removal not only to Akron OH but to the surrounding area including North Canton, Greater Cleveland, Summit County, North Ridgeville. For a free quote send us an email or give us a call 330-260-6462.
Whether you're looking for a local dumpster rental company for cleaning up your house or construction debris, we provide you with the perfect roll-off dumpster rental in
Akron
,
Alliance
,
Barberton
,
Canton
,
Cuyahoga Falls
,
Fairlawn
,
Hartville
,
Hudson
,
Kent
,
Norton
,
Portage Lakes
,
Stow
,
Streetsboro
,
Tallmadge
,
Uniontown
and all surrounding areas. Click to see our entire
Service Area
Rubbish Outlaw
163 Annadale Ave
Akron, OH 44304
330-260-6462