Alliance Dumpster Rental
Alliance was founded in 1854 by the merger of three smaller communities called Williamsport (formed in 1827), Freedom (formed in 1838), and Liberty (formed in 1850). A fourth community, Mount Union, was added in 1888. Alliance OH was incorporated as a city in 1889. The city is located at 40°54′48″N 81°6′29″W and the population of Alliance is 21,672.

If you are a resident of Alliance OH or are a contractor doing business in Alliance OH, you might find yourself in need of a dumpster rental company. You might be doing a construction project or a whole house cleanout. Whatever your project is we have a roll off Dumpster Rental Solution for you. Our Company Rubbish Outlaw is your first choice for quick, cost effective and reliable dumpster rentals in the Alliance OH market. Give Rubbish Outlaw a call 330-260-6462.
We Take Just About Everything
Some examples of the junk we haul away include
Refrigerator Disposal

Garbage Removal

Mattress Disposal

Foreclosure Clean Outs
Construction Waste Removal

Yard Waste Removal

Trash Removal

Appliance Removal
Television Disposal & Recycling

Furniture Removal

E-Waste Disposal

Hot Tub Disposal
Alliance Dumpster Rental Sizes
With our site RubbishOutlaw.com you have the ability to choose either a 15 Yard Roll Off Dumpster Rental and 20 Yard Roll Off Dumpster Rental. We have made the process of renting a dumpster in the Alliance, Ohio area super easy with our 24-hour online ordering. You can rent a dumpster anytime that is convenient for you. If you prefer you can also give us a call and one of our staff can help you with the rental process as well.
With our 15-yard dumpster rentals, you have the option of renting for 3 days or 7 days. Many customers prefer the three-day rental since it saves time and money while also keeping you motivated to get the task done as fast as possible. The three-day rental is ideal for homeowners and contractors who need to meet deadlines and offers a discount over the 7 day rental.

The average tonnage for a 15-yard dumpster is right around 1 ton. Extra tonnage is available at $50.00 per ton.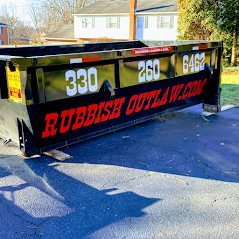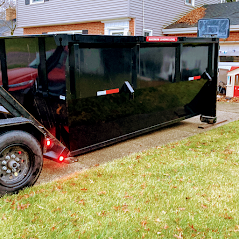 Our 20-yard dumpsters include up to 7 days for one low price. We believe in easy affordable upfront pricing. We include up to 3 tons with your 20-yard dumpster rental.

Our 20 yard dumpsters will easily fit in most driveways, the dimensions of the 15-yard dumpsters are 14 foot long, 7 feet wide and 4 foot tall. Our 20-yard dumpsters are 14 feet long, 7 feet wide and 6 foot tall.
Manage Your Waste Materials With A Dumpster Rental On Site
Having a dumpster delivered on site in Alliance OH will ease your waste removal. When a project involves huge amounts of trash, household junk, yard cleanup, or commercial projects it's often the easiest and cost effective solution to get rid of it by renting a dumpster. Having a roll off dumpster nearby will save you time from going to the landfill.
Need A 30 Yard Dumpster Or 40 yard Dumpster?
If you require a 30 yard size dumpster or a 40 yard size dumpster rentals, we can provide it to you. We have a solution where we rent out 2 15-yard dumpsters or 2 20-yard to give you the carrying capacity you require.

Call today 330-260-6462 for a free quote.
No Hidden Fees!
We are your hometown dumpster rentals company with no hidden fees. Upfront pricing, professional drivers, gracious weight limits.
Alliance Realtors We Got Your Commercial Dumpsters!
Our Dumpsters are perfect for foreclosure clean outs, construction debris removal, removing unwanted household items before putting a house up for sale or decluttering before you have that open house. We have the best price, fast delivery on our dumpster rental service. We can also do the work for you or your clients with our junk removal service. Point your clients in the right direction and rent a container from Rubbish Outlaw.

What Can Alliance OH Clients Use Our Big Dumpster For?
We use 2 of the most popular dumpsters rental sizes to service our Alliance, Ohio clients.
Small To Medium Clean Ups
Our 15-yard Dumpster are perfect for small to medium sized home projects such as home cleanouts, single room renovations, roofing, garage cleanouts, light construction debris, deck removal, whole home flooring removal, renovations, other debris, additions etc. This Dumpster is a great price for the amount of rubbish it holds.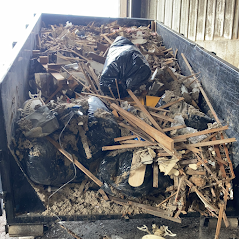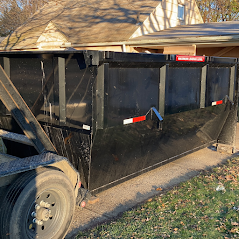 Medium and Large Cleanups!
Our 20-yard dumpster size is an extremely popular option for large projects as it has enough room for a large volume of debris without taking up a ton of space at your home or job site.

Our 20-yard dumpster can be used for a wide variety of projects including Complete kitchen renovation, Large Basement or Garage cleanout, Moving, Large bathroom remodel, Home renovation project, Flooring or carpeting removal for the whole house, Deck or Shed Demolition and Whole home decluttering.
Construction And Demolition Debris
There are many benefits to renting a dumpster for construction debris and demolition debris. First, it's a great way to keep your job site clean and organized. Having a designated place for all of your debris makes the cleanup process much easier and quicker. Second, it's a great way to save money. Instead of paying a garbage company to haul away your debris to the landfill, you can simply rent a dumpster and have them dispose of it for you. Our flat rate pricing is convenient for roof replacements and demolition projects.
Junk Removal VS Dumpster Rental For Alliance OH
When it comes to waste removal, there are two main options: junk removal or dumpster rental. Both have their own set of pros and cons, which is why it's important to understand the differences before making a decision.

With junk removal, someone will come to your home and remove the waste for you. This can be a good option if you don't have a lot of waste or if you don't have a lot of time or the manpower to remove the waste.

Dumpster rental is when you rent a dumpster to store all of your waste until it's full. This is a good option if you have a lot of waste that you need to get rid of and don't want to have to deal with it all at once. By renting a dumpster, you can spread out the waste removal over a few days or a week, which makes it more manageable. Contact us for a free quote on Junk Removal or Dumpster Rentals.

What sets Rubbish Outlaw Dumpsters Rentals apart from other Dumpster Rental companies?
There Are Many Different Types Of Cleanups!
Whether you need to clean up a residence or a commercial space in Alliance Ohio, Rubbish Outlaw can manage your dumpster rental needs. Some of the junk types we manage include garbage removal, refrigerator disposal, foreclosure cleanouts, estate clean outs and mattress disposal.

Some of our popular services include yard waste removal, construction waste removal, appliance removal, trash removal, furniture removal, hot tub disposal, e-waste disposal, and television disposal and recycling. Whatever junk you need to be hauled away, we can ensure that you dispose of it, so the area is clean and so you are being responsible and ethical with the disposal of your waste. We do not accept large amounts of Dirt, concrete or hazardous materials.


Great Customer Service
Our customer service is personal, professional, and comprehensive. Whenever you give us a call, we will answer all the questions you have regarding waste disposal. Our team is always available to help you with the dumpster rental process. Additionally, we can help if you are not sure what dumpster size is best for you. Whether you are getting rid of waste from a commercial project or your home, you might not be sure what is best for the type of material or the amount. You can get our team on the phone, and we can help you decide which dumpster is the right size for your project.
As a result, you will get a perfect size dumpster that makes the job easy to complete with affordable pricing and great service.
Simple, Efficient Dumpster Rental Alliance OH
When you rent one of our roll off dumpsters, you will receive your rental exactly when you have requested it. Then, when it is filled up, we can take the dumpster away and dispose of your waste quickly. We also service many other areas outside of Alliance OH. We service Akron, Canton, Cuyahoga Falls, North Canton to name a few. See our complete list on our Service area page.
Are Your Dumpsters Driveway Friendly?
Yes, our roll-off container rentals are driveway friendly and I'll explain why.
To begin, a medium-weight truck transports your dumpster to your house or job location. Other firms use a seriously heavy commercial vehicle to transport your container. It's not the container that damages most homeowners' driveways; it's the trucks.
Driveway protection For Dumpster Rentals
We provide a storage container on wheels that is the correct size and will not harm your driveway, making us the ideal alternative. We also place boards beneath our containers while delivering our container to ensure that it does not damage your driveway. We take our obligation to safeguard your property seriously.
Will The Dumpster Take Up My Whole Driveway?
Our dumpsters are the same size as a SUV or Pickup Truck.
Non Acceptable Items For Dumpster Rental Services
We do not take concrete, dirt, refrigerators, wet paint or any hazardous materials.
What is a Roll Off Dumpster Rental?
A roll off dumpster is a type of waste container with a large volume capacity. They come in a variety of sizes including 10 cubic yards, 15 cubic yards, 20 cubic yards and 30 cubic yards. These bins are what's most often used in the construction industry. When a trash container is placed onto the back of a truck or trailer, it's called a roll off dumpster because they can be rolled off. Our Roll Off dumpsters are driveway friendly we protect your drive by placing boards for the roll off dumpster to sit on. The boards will protect driveway from any unwanted scratches.
What Types of Payments Do We Accept?
When you need a dumpster rental in Alliance rest assured, we will be there to assist your needs and offer a wide variety of payments options. We accept all major credit card payment as well as cash and checks.
We also offer service to Boston Heights, Cuyahoga Falls, Turkeyfoot Lake, Portage Lakes, Stow, Akron Area, Stark Counties and Northeast Ohio.
Do I need a permit for my rental in Alliance?
If The plan is for the container to be placed in the roadway. You may need a permit check with your local city.
Our Service Area
Proud to Serve The Following Areas
Atwater
Aurora
Brecksville
Canal Fulton
Creston
Dalton
East Akron
East Canton
Edinburg
Hinckley
Marshallville
Medina
Middlebranch
Montrose
New Franklin
North Canton
Northfield
Randolph
Richfield
Rittman
Rootstown
Sagamore Hills
Sagamore Hills Township
Seville
Silver Lake
Twinsburg
Westfield Center
All areas in between
If your project site is beyond that radius, just let us know! We frequently deliver even farther out, and special accommodations can usually be made to suit your project - and your wallet.
NOTE: Extra fees may vary depending on how far you are outside our service area.
Rubbish Outlaw
163 Annadale Ave
Akron, OH 44304
330-260-6462